~
Protein Powder During Breastfeeding: Is It Safe?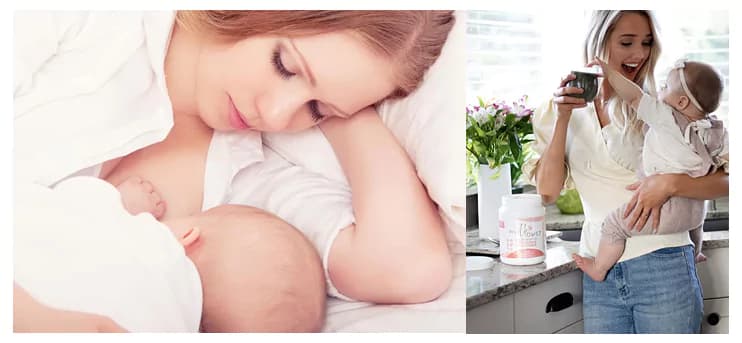 For new parents, providing the best possible nutrition for their baby is a top priority. Breastfeeding mothers often inquire about the benefits of protein powder. Interestingly, protein powders can contain lactogenic superfoods that boost milk production.
In this article, we'll delve into the role of protein during breastfeeding and early development, and provide guidance on safe usage to support your baby's nutritional requirements.
Protein Requirements During Breastfeeding
Protein is essential for tissue structure and growth.

Breastfeeding mothers and their babies need protein for muscle and connective tissue strength, skin and organ health, and milk production.

Consuming enough protein after childbirth helps maintain lean tissue and supports milk production.

Protein needs increase during lactation.

Recommended protein consumption during lactation is 1.1 g/kg body weight.

Eating more protein during pregnancy may help return to pre-pregnancy weight faster.
When Should A Breastfeeding Mother Use A Protein Powder?
A healthy diet makes it easier to produce high-quality milk and gives more energy.

Most women can get enough protein from their regular diet to help them breastfeed.

Physical barriers or a lack of time may make it difficult to achieve critical protein intake, and supplements can help fill the void.

Protein supplements can promote postpartum recovery and milk production if a woman's appetite is affected.

A breastfeeding mother should consume various other meals, such as whole grains, fresh fruits and vegetables, foods high in calcium, and healthy fats, along with protein meals to meet her nutritional demands.
How To Fulfill Protein Requirements In Different Delicious Ways?
High-quality, organic protein powder is a convenient way to get the required nutrients.

Smoothies are a quick and easy way to incorporate protein powder into your diet.

Protein powder can be added to dishes that are already part of your diet for dietary fortification.

Boost your protein consumption gradually by adding protein to yogurt, oatmeal, bliss balls, or pancakes.
Is It Safe To Take Protein Powder While Breastfeeding?
Protein powders should be clean and free of synthetic chemicals for safe consumption by breastfeeding mothers.

Whey protein is a natural component of dairy and is safe for consumption during pregnancy and breastfeeding.

Dairy-free plant protein is also safe for consumption and assimilated similarly to whey protein powder.

Consult a doctor before taking protein supplements during breastfeeding as individual needs may vary.
Breastfeeding With Protein Powder: What To Look For
Complete proteins with all nine amino acids are important in protein powders for breastfeeding mothers.

Look for organic certification by the USDA and non-GMO verification to avoid environmental and industrial toxins, as well as protein sources without added hormones.

Choose protein powders with a recommended serving size of one scoop to avoid added fillers.

Avoid protein powders with artificial sweeteners or sugar alcohols and cheap plant-based fillers like rice protein that may contain heavy metals.

Look for protein powders free of the top 8 allergens, including dairy, wheat, soy, eggs, and nuts.

Choose protein powders with prebiotics and not just probiotics to support gut health.

Be mindful of other supplements and vitamins already recommended by a healthcare provider to avoid exceeding daily values.
Keep In Mind: Avoid Weight-Loss Supplements
Avoid weight-loss supplements when breastfeeding to protect yourself and your baby

Protein supplements may contain hidden harmful additives

Protein powders for athletes may not be safe for pregnant or nursing women due to added caffeine and other substances

Fat-burning blends should be avoided because they can contain harmful stimulants for your child
Conclusion
Protein powders can help lactating mothers meet their increased protein needs, but it's crucial to choose a blend with high-quality protein and read labels to avoid risky substances. Additionally, experts recommend avoiding protein with more than five.
Get expert medical advice from our team of experienced pediatricians within 15 minutes or emergency-consultation for your child's health and development. Sign up for Babynama's care plans today to get unlimited access to chat with a pediatrician directly on WhatsApp to get answers to your child's health-related queries and the best possible care. Babynama's aim is to provide fast, reliable, and quality healthcare support to parents. Be a part of Babynama today!