~
Pear Puree: Healthy & Delicious Food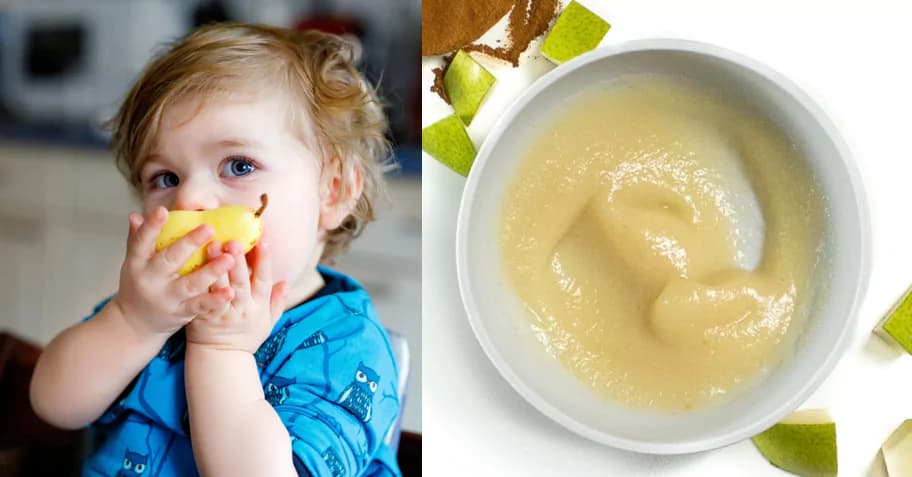 Pears are a healthy and delicious first food for babies, packed with essential nutrients and gentle on the tummy. This easy-to-make pear puree recipe is the perfect way to introduce your little one to the joys of solid foods. Give your baby the gift of good nutrition and great taste with a bowl of homemade pear puree today!
Let's learn how to make pear puree.
Benefit Of Serving Pear To Kid
A single pear, being nutrient-dense, contains potassium, fiber, vitamin C, folate, and copper, essential for good health. As a result, the fruit is an ideal addition to your baby's diet since it is simpler to digest and contains a higher concentration of nutrients per calorie than other meals.
It's other benefits are-
Pears are a great source of fiber for your infant.
Pears contain potent antioxidants that fight free radical damage and prevent oxidative stress.
Pears are one of the few fruits not grown using pesticides. Pears may alleviate indigestion, diarrhea, and dysentery in babies.
Studies have shown that pears are very therapeutic. They help wounds heal. Pears will aid your child's walking.
Pears have been shown to help sick babies. Caffeic acid and chlorogenic acid, found in pears, help enhance the immune system and protect babies.
Pears are less acidic. It's a gentle way to alleviate neonatal reflux and GERD symptoms. Pears are low in acid and help asthma.
Recipe of Pear Puree
Ingredients
Pear – one small
Flavor - A pinch of cinnamon (optional)
How To Make
Choose a pear with clean skin, freshness, and firmness. Peel and core the pear. Cleanse it thoroughly.
The pear should be placed in a thick bottomed pan, filled with water, heated to a boil, and then removed. Long enough to get the required consistency is fine.
Once the pear has been cooked, you may use a blender to mash or puree it.
Make sure you don't dilute it with water, breastfeeding milk, or formula.
Add a pinch of cinnamon to the mixture if desired.
It's essential to serve your child puree in a cleaned feeding dish and then make them eat it.
Is it safe to offer a baby a pear?
Yes, it is safe to offer a baby a pear. Pears have a soft peel, making them easy to digest and a popular remedy for constipation in children. Additionally, pears contain minerals and antioxidants that can help prevent cancer and heart attacks.
Pear for Babies: When Is the Best Time?
To introduce pears to your baby, it's best to wait until they are 8 months old.
Peeled and uncooked pears can be given to your baby, but boiling and pureeing them may be recommended for the first 8 months.
Be cautious and supervise your baby while giving them finger foods to prevent choking.
Pear puree is a tasty and fiber-rich baby food that can benefit their digestive system and be enjoyed throughout their childhood.
Get expert medical advice from our team of experienced pediatricians within 15 minutes or emergency-consultation for your child's health and development. Sign up for Babynama's care plans today to get unlimited access to chat with a pediatrician directly on WhatsApp to get answers to your child's health-related queries and the best possible care. Babynama's aim is to provide fast, reliable, and quality healthcare support to parents. Be a part of Babynama today!