~
Baby Nutrition – How to Avoid Food Allergies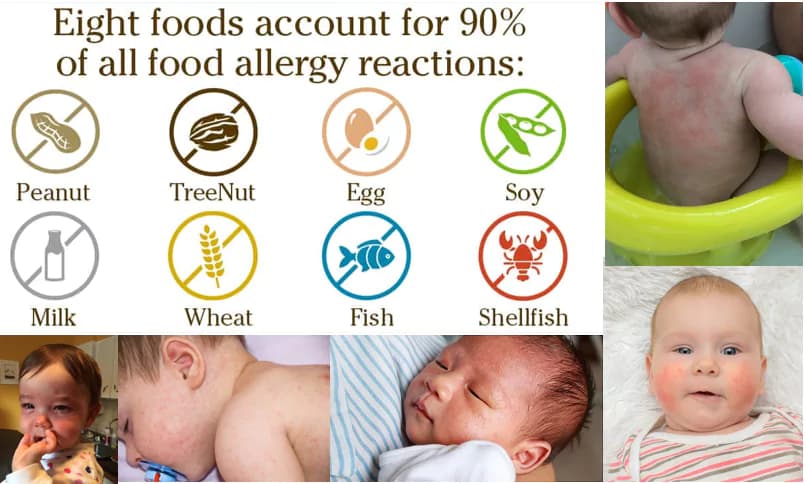 Do you know nearly 5% of children under the age of five have food allergies?
Starting solid foods for your baby can be both exciting and stressful for some mothers. However, it's important to be aware of the potential for food allergies, which affect nearly 5% of children under the age of five.
In this blog, we'll discuss some important facts about food allergies in babies and how to identify and avoid them.
What is a food allergy?
A food allergy occurs when the body reacts to a protein in food that it mistakenly believes is harmful. Genetics play a role in whether or not a baby will develop a food allergy, but other factors like diet and lifestyle can also have an impact.
Gradually begin to identify food allergies in child
Top 8 Allergens and Babies:
| | | | |
| --- | --- | --- | --- |
| Top 8 Allergies and Babies | Most Common Causes of Food Allergies in Children | Foods That Usually Cause Severe Reactions | Allergies That Can Last a Lifetime |
| Cow's milk | Eggs | Peanuts | Peanuts |
| Wheat | Milk | Tree nuts | Tree nuts |
| Soy | Peanuts | Fish | Fish |
| Eggs | Wheat | Shellfish | |
| Peanuts | Soy | | |
| Tree Nuts (such as almonds, hazelnuts, walnuts, pistachios, and cashews) | Tree nuts | | |
| Fish (such as tuna, salmon, and cod) | | | |
| Shellfish (such as lobster, shrimp, prawn, and crab) | | | |
Symptoms of a food allergy:
Vomiting
Blocked nose
Sneezing
Watery eyes
Diarrhea
Cramps
Swelling
Eczema
Breathing problems
Loss of consciousness
Coughing or wheezing
Hyperventilating
Low blood pressure
Delayed allergic reaction symptoms may include:
Reflux
Stomach discomfort
Diarrhea and constipation
Mucus or blood in your child's stool
Moderate to severe eczema
Diagnosis of food allergies:
Diagnostic tests may include skin tests and blood tests to check for IgE antibodies to certain foods.
Allergists may also ask additional questions and perform a physical exam.
Key facts to remember:
A small amount of allergen can trigger a severe reaction in highly allergic people.
Consult your pediatrician for a diagnosis of food allergies.
Allergic reactions can worsen with continued exposure.
Some allergies may go away over time, but others, such as peanuts, tree nuts, and shellfish, usually persist.
For more specific guidance on baby allergen due to allergen foods, our team of highly qualified pediatricians is just a WhatsApp message away.
Get expert medical advice from our team of experienced pediatricians within 15 minutes or emergency-consultation for your child's health and development. Sign up for Babynama's care plans today to get unlimited access to chat with a pediatrician directly on WhatsApp to get answers to your child's health-related queries and the best possible care. Babynama's aim is to provide fast, reliable, and quality healthcare support to parents. Be a part of Babynama today!