~
Apple Puree: A Tasty and Nutritious Food for Your Baby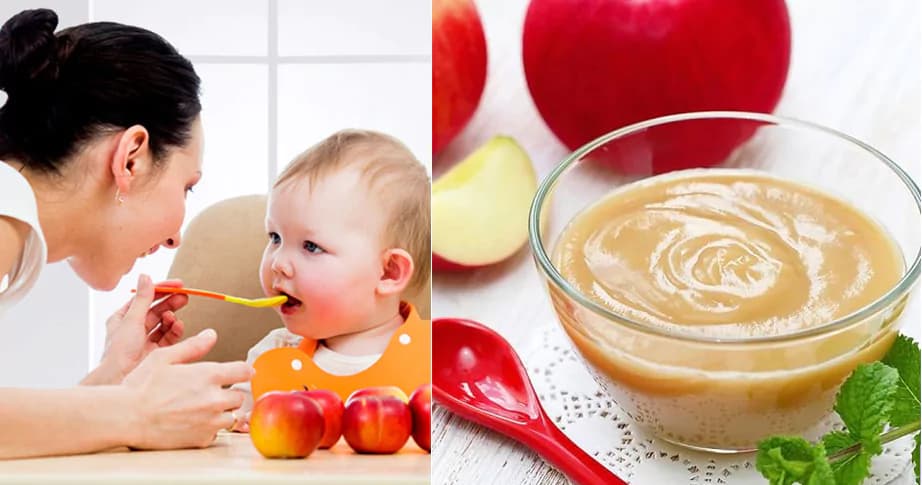 Parents love to see their babies grow and develop, and they are especially mindful of their nutrition. Apple puree is a great option for infants starting on solid foods, with its sweet taste and high fiber content.
In this article, we will explore the recipe for apple puree and when it is safe to introduce it to your little one.
When Is It Safe to Start Feeding Your Baby Apple Puree?
Recipe of Apple Puree
Ingredients
Apple – 1
Water – 2 Cup
Flavour - a tiny amount of ground cinnamon (optional)
Mother's milk - 2 to 3 tablespoons or as required
How To Make
Make cubes out of the apple by removing the core, peeling, and cutting.
Put the apple slices in the pressure cooker with the water. An alternative method is to use a food steamer.
Cook the meal for around 20 minutes on low heat.
Simmer the apple cubes in water for a few minutes to soften them.
Wait for the ice cubes to cool before serving.
Add the ingredients to a bowl and mix until they form a smooth purée. Use a spoon to mash the apple pieces in a sterilized dish for a chunkier texture.
Add additional breast milk if you want a slightly softer final product.
For more flavor, add a pinch of ground cinnamon. The apple puree you just prepared is now ready for your baby to eat.
Key Notes To Keep In Mind
Organic, fresh, and free of preservatives, apples are best for baby's apple puree.
Only use apple puree to preserve if it's freshly pressed from the fruit.
Fresh apple puree is delicious and nutritious food for your baby.
Start with a bit of apple purée. Add another teaspoon if your baby continues to like his food.
Do not refrigerate any remaining puree to prevent the growth of bacteria.
Preparation and storage of the puree should be done using sterile equipment and utensils.
Mums choose apple puree as a baby meal for its taste and nutritional benefits. After your infant gets accustomed to eating cooked and pureed apples, you may add extra fruits to make it tastier and more nutritious. A flavored puree with an apple may be introduced as the baby grows.
Get expert medical advice from our team of experienced pediatricians within 15 minutes or emergency-consultation for your child's health and development. Sign up for Babynama's care plans today to get unlimited access to chat with a pediatrician directly on WhatsApp to get answers to your child's health-related queries and the best possible care. Babynama's aim is to provide fast, reliable, and quality healthcare support to parents. Be a part of Babynama today!